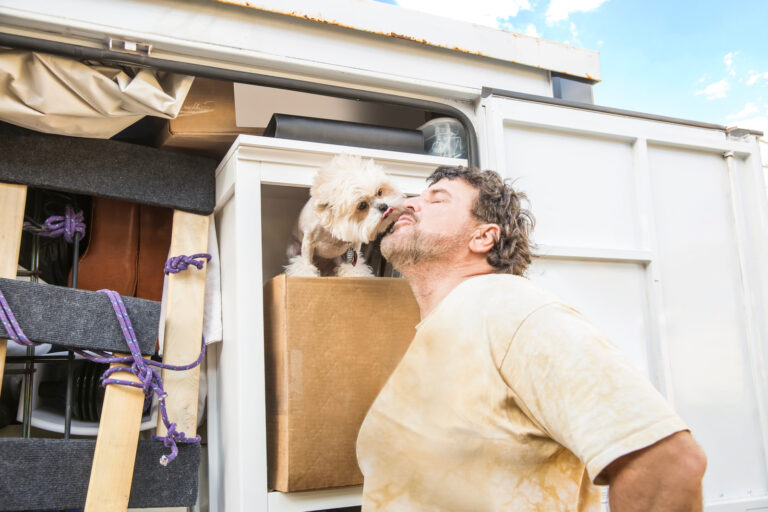 We all feel excited even about starting a new life in a new place. No doubt, the experience of interstate moving is appealing and very tiresome. Long-distance moving entails a long trip with prolonged hours.
In this scenario, you might be a little nervous about how are you relocating with a pet? Or how will your pet behave being on a long journey? There are chances that your pet will create difficulties on a flight.
Therefore, you must pre-plan for the move and ask for some valuable suggestions from a trustworthy moving company.
We are the best movers and packers that are here to reveal some secrets to make the pleasant international pet relocation as below:
Things To Remember While Relocating With A Pet
The first thing is to go and consult your vet.
Moving pets to a new home is a risky task. So, you must consult your vet while planning for a long-distance relocation. This will allow you to accurately know if your pet can undertake the journey or not.
While several countries ask for vaccination, they also provide information about keeping your pets calm and stress-free on the trip.
Keep the pet as Happy as Possible.
It is vital to keep your pet happy during the interstate move, no matter if it is a dog or cat. Train them to stay calm while traveling. Hire a trainer for a few days; they will help you with this task.
Prepare an essential kit.
Collectively, you must prepare an easily-accessible 'overnight kit.' In this kit, include your pet's food, toys, sanitizers, kitty litter, and other essential products for your pet.
This will keep everything handy, and your pet won't be annoyed due to delays.
If you are fond of fish and keep an aquarium in your house, you should be very careful while planning to move it to your new place. Fishes are so sensitive and delicate that their response to changing situations is vital.
Therefore, moving might be traumatizing for them.
Provide crate training to your pet
When transporting pets overseas by boat or via air, they must use crates. So, do you think your pet will feel excited about getting transported into the container?
No. They won't.
Therefore, movers and packers in Maryland recommend you to give training to your pet.
This will help them stay comfortable throughout the journey and keep them preventive from stress and anxiety.
Additionally, different sizes of crates are available as per the pet's size, which will ensure their safety.
How to move your pet to another country?
Before every plan, do some beneficial research about the country you will move into.
The analysis will make you learn about the formalities that need to be completed to take the pet along with you.
In some countries, vaccinations are mandatory before allowing any pet to enter. These countries check veterinarian health certificates at the airport.
Moreover, various countries ask to install microchips in your pet. Your veterinarian can help you with this procedure and instruct you to keep your dog or cat safe.
American Twin Mover is here to help you with all the preventive measures to follow while moving the fish aquarium.
Especially if it's a long-distance move, and if you are local moving, you can transport them in bags filled with water.
Important Points to Remember When Relocating With A Pet
Check the country's regulations and apply for an entry permit accordingly.
Bring the medications, drinking water, jug, and some light eatables.
When relocating with a pet, get a travel identification tag. The information on the label should cover Pet's name, your name and full address/phone, and full destination address and telephone.
Do not forget to pack your pet's diet. Changing a pet's food can temporarily cause digestive problems.
In conclusion, you will have to be extra cautious when relocating with your pet. You can always get help from a professional moving company for the perfect packing and moving. 
Relocating with a pet is critical to ensure you will not damage your belonging and pets during the travel.
I hope you will find these tips helpful in keeping your pet happy during the moving process. For any query, call the most reliable moving company – American Twin Mover.