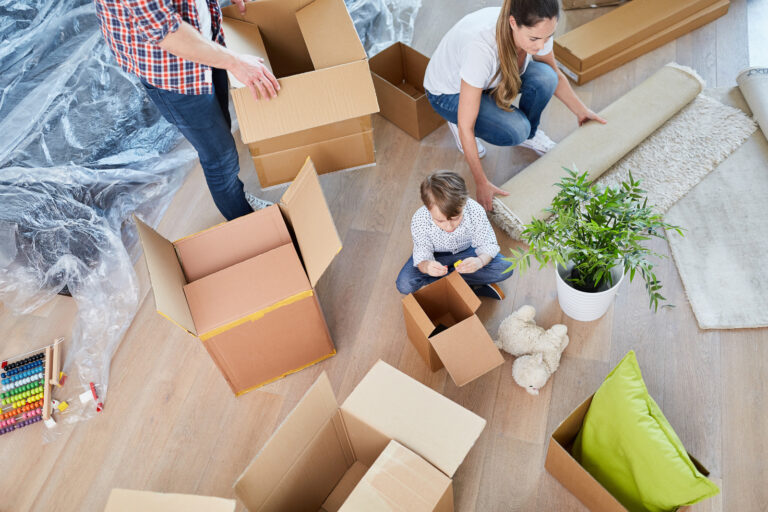 After you have done every task, from packing to transferring your belongings, it's time to set in after a move. Every assignment of the moving process requires proper planning and implementation. One of the most crucial tasks of moving is unpacking.
It is the final step to start living in your new place. Here, we will share tips to unpack after moving. These tips will help you unpack efficiently and organize your belongings in their respective places.
So, without taking much time, let's start exploring the best tips to unpack your belongings.
How to Organise & Unpack After Moving?
1)  Unpacking Systematically After Moving
Do not just jump onto the random boxes. First, decide which room you want to use immediately after the task.
While packing, you must have labeled your boxes according to their categories. Now it's time to utilize that labeling.
2) Unpack the Kitchen First
Do you want to know what to unpack first after moving?
It is advisable to organize your kitchen before everything. So, start unpacking the boxes of kitchen utensils. With the help of labeling, you can easily detect kitchen boxes.
Next, organize your cupboards and cabinets. But if you do not have much time, you can only unpack the vital appliances like pans, mixtures, pots, toasters, etc.
3) Consider Unpacking your Essential Kit
Unpacking the essential box will make your life very easy. You might have brought that kit with you in your vehicle. Unpacking it after moving will keep your home running in the short term.
The essential kit generally includes medications, important documents, basic toiletries, phones, chargers, and food ingredients.
4) Bedroom Boxes – Unpack after Moving
After unpacking essential kits and kitchen utensils, you can go to the bedroom. First, unpack the linens for your bedrooms so that you can rest on them.
Next, organize furniture that is necessary during eating or short naps.
5) Move on to the Bathroom
Bathroom fixtures are pretty functional already when you move in. You can decide when you should use them. Therefore, it is your responsibility to prepare them before any emergency.
It is not that unpacking is overwhelming, so start unpacking your toiletries, towels, and other bathroom items.
Note: You can always approach reliable movers and packers that help unpack and organize your belongings at the new place.
6) Unpacking and Decluttering the Furniture
If you have already planned your whole interior appearance, the unpacking and arrangement of furniture will be very easy.
However, if you have not prepared for it,  apartment tips guide you to make a systematic plan for bedroom, living room, and dining room furniture.
Conclusion
You can efficiently unpack after moving by following these systematic tips and tricks. So, you don't have to feel overwhelmed or worried about this final task of the relocation process. I hope you have found this article helpful.
A local move is critical to ensure you will not damage your belonging during the travel you cannot handle all the moving tasks alone without any damage. If you want to have a smooth moving experience, connect with American Twin Mover.
It is the top moving company in Maryland that helps you in every task of moving.
So, hurrah, you don't have to take the burden of unpacking on your shoulders. Instead, the professional movers and packers will handle all your tasks gracefully.