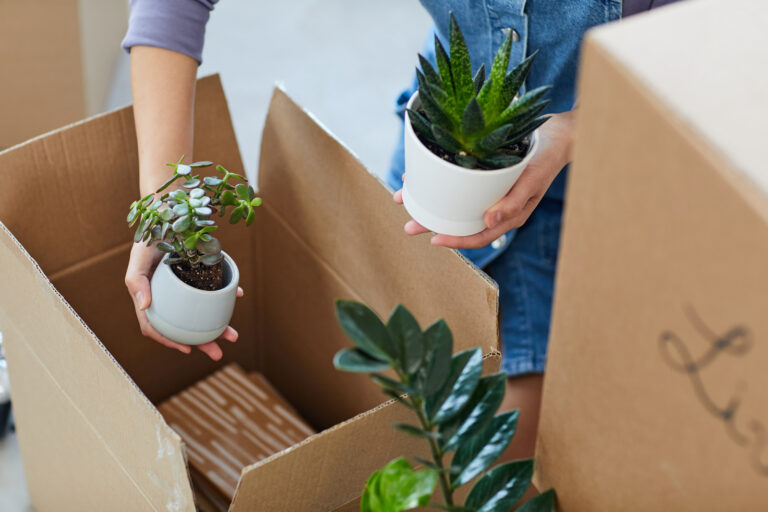 Loving nature is one of the most incredible things on this planet. So, we are cheering for the people who love keeping houseplants in their balcony area or backyard. Indeed, you can ideally take care of your plants at your home though what if you are moving somewhere else? Have you thought about transporting plants when moving home? How are you going to relocate your plants?
Uh, we must tell you that moving your precious houseplants to a new address is a very complicating chore to do without any professional help. 
Therefore, American Twin Mover is here to shift your delicate plants without any damage. We are experts in moving small planters, large palms, cemented pots, and many more.
Now, we will make you understand the concept of the proper steps for moving plants. It ensures that you will not certainly end up damaging them. So, let's start looking at the guide to moving your plants smoothly with or without movers and packers.
Smooth the way when you R

elocate your plants



The moving company suggests you prepare your plants a few weeks before moving to the new place. For this, you have to remove all the dead leaves and branches, plus eliminate dust, pests, and weeds.
Bless your plants with the right amount of water
Your plants on summer days demand water even on the moving day. Therefore, try to water them before putting them in the vehicle. 
On the other hand, stop watering your plants a few days before moving in winter. So, you should keep the soil dry on a moving day. 
Note: Plants become azoic with the combinations of Cold and wet or hot and dry. 
The Right Way To Pack When You Relocate Your Plants

Most people pack their plants like other goods. However, this is the biggest mistake they ever made. Know that plants require fresh and clean air to stay alive. Therefore, we advise you to move your plants without harshly packing them. Instead, transport them safely in the vehicle with trusted movers and packers.
People sometimes ask whether movers and packers take plants.
We want to inform you that American Twin Mover has been helping people move their plants safely to the new place for years. 
Tips for moving small and big plants
Small Plants
If you have beautiful small plants in your charming garden, we advise you to carry them in cardboard boxes or wine glass boxes to stable their position. Moreover, use big boxes with extra space if you have slightly more significant than small ones. 
Do not cover them from the upper side and let them breathe the fresh air. 
Will professional movers move plants?
If this question runs into your mind, we must tell you that you can always get professional help for your beautiful plants. 
Big Plants 
If you are relocating yourself with large plants, it would be best to hire trusted movers and packers to keep them safe.
How do movers move large plants?
Usually, they cover the base of plants with the old sheets. This kind of wrapping will keep the soil remain at the same place throughout the long journey.
Relocate your plants with professional packers and movers
Can we shift plants from one place to another?
We know you can give your best to keep your lovely plants safe during the relocation. But the truth is that no matter how much you put in the effort, they are still at risk of facing ruin. Thus, professional plant movers help you ship them without any detriment.
There are so many things that the professional team comprehends and resolves. For example, they know all the methods to Relocate your plants when moving home. 
For example, movers and packers use plastic bags to keep the soil safe for the plant's base to relocate your plants.
Final Words
If you handle your plants with care, they will stay safe throughout the shifting process. We hope you understand how to relocate your plants and the problems that might occur. Relocating a plant is critical to ensure you will not damage your belonging during the travel. Moreover, if you have any questions or doubts in your mind, you can share them with us. 
We recommend- taking advantage of professional help and enjoying the safest and smoothest relocation in Maryland.
Call American Twin Mover today and know how the plants' relocation works!